Since I had a little free time today, I was thinking of writing something motivated by two things I saw today, Sabine Hossenfelder's What's Going Wrong in Particle Physics, and this summer's upcoming SUSY 2023 conference and pre-SUSY 2023 school. While there are a lot of ways in which I disagree with Hossenfelder's critique, there are some ways in which it is perfectly accurate. For what possible reason is part of the physics community organizing summer schools to train students in topics like "Supersymmetry Phenomenology" or "Supersymmetry and Higgs Physics"? "Machine Learning for SUSY Model Building" encapsulates nicely what's going wrong in one part of theoretical particle physics.
To begin my anti-SUSY rant, I looked back at the many pages I wrote 20 years ago about what was wrong with SUSY extensions of the SM in chapter 12 of Not Even Wrong. There I started out by noting that there were 37,000 or so SUSY papers at the time (SPIRES database). Wondering what the current number is, I did the same search on the current INSPIRE database, which showed 68,469 results. The necessary rant was clear: things have not gotten better, the zombie subject lives on, fed by summer schools like pre-SUSY 2023, and we're all doomed.
But then I decided to do one last search, to check number of articles by year (e.g. search "supersymmetry and de=2020"). The results were surprising, and I spent some time compiling numbers for the following table: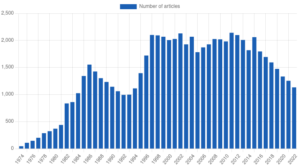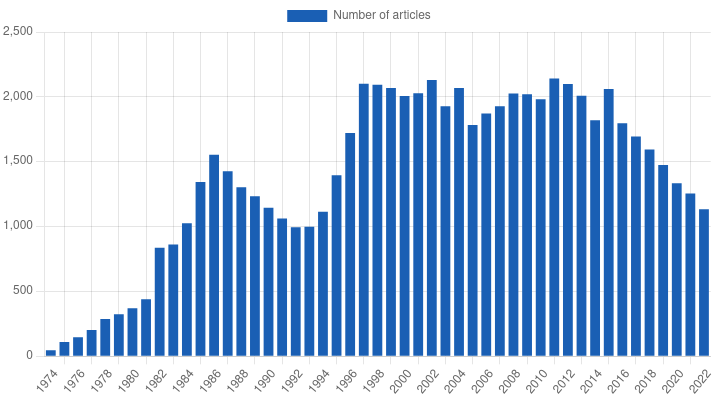 These numbers show a distinct and continuing fall-off starting after 2015, the reason for which is clear. The LHC results were in, and a bad idea (SUSY extensions of the SM) had been torpedoed by experiment, taking on water and sinking after 20 years of dominance of the subject. To get an idea of the effect of the LHC results, you can read this 2014 piece by Joe Lykken and Maria Spiropulu (discussed here), by authors always ahead of the curve. No number of summer schools on SUSY phenomenology are going to bring this field back to health.
Going back to INSPIRE, I realized that I hadn't needed to do the work of creating the above bar graph, the system does it for you in the upper left corner. I then started trying out other search terms. "string theory" shows no signs of ill-health, and "quantum gravity", "holography", "wormhole", etc. are picking up steam, drawing in those fleeing the sinking SUSY ship. With no experimentalists to help us by killing off bad ideas in these areas, some zombies are going to be with us for a very long time…
Update: There are a couple things from Michael Peskin that are relevant to this that might be of interest: an extensive 2021 interview, and a very recent "vision statement" about particle physics. Peskin's point of view I think is exactly what Hossenfelder is arguing against. He continues to push strongly for a very expensive near-term collider project, and doesn't seem to have learned much of anything from a long career of working on failed ideas. I remember attending a 2007 colloquium talk here at Columbia where he put up a slide showing all the SUSY particles of masses a few hundred GeV that the LHC was about to find, and assured us that over the next 5-10 years we'd be seeing evidence of a WIMP from several different sources. According to the interview, in 2021 he was working on Randall-Sundrum models (see here) and wondering about the "little hierarchy problem" of why all the new physics was just above the LHC-accessible scale rather than at the electro-weak breaking scale. I very much agree with some of his vision statement (the Higgs sector is the part of the SM we don't fully understand, and the argument for colliders is that they are the only way to study this), but his devotion to failed ideas (not just Randall-Sundrum, but string theory also) as the way forward is discouraging. In the interview he admits that it's looking like post-LHC abandonment of particle physics is the most likely future:
I think if you were a betting man, you would bet that LHC will be the last great particle accelerator, and the whole field will dissipate after the LHC is over.
Most of his prominent colleagues have the same attitude that the subject is over, and have already moved on, unfortunately to things like creating wormholes in the lab.