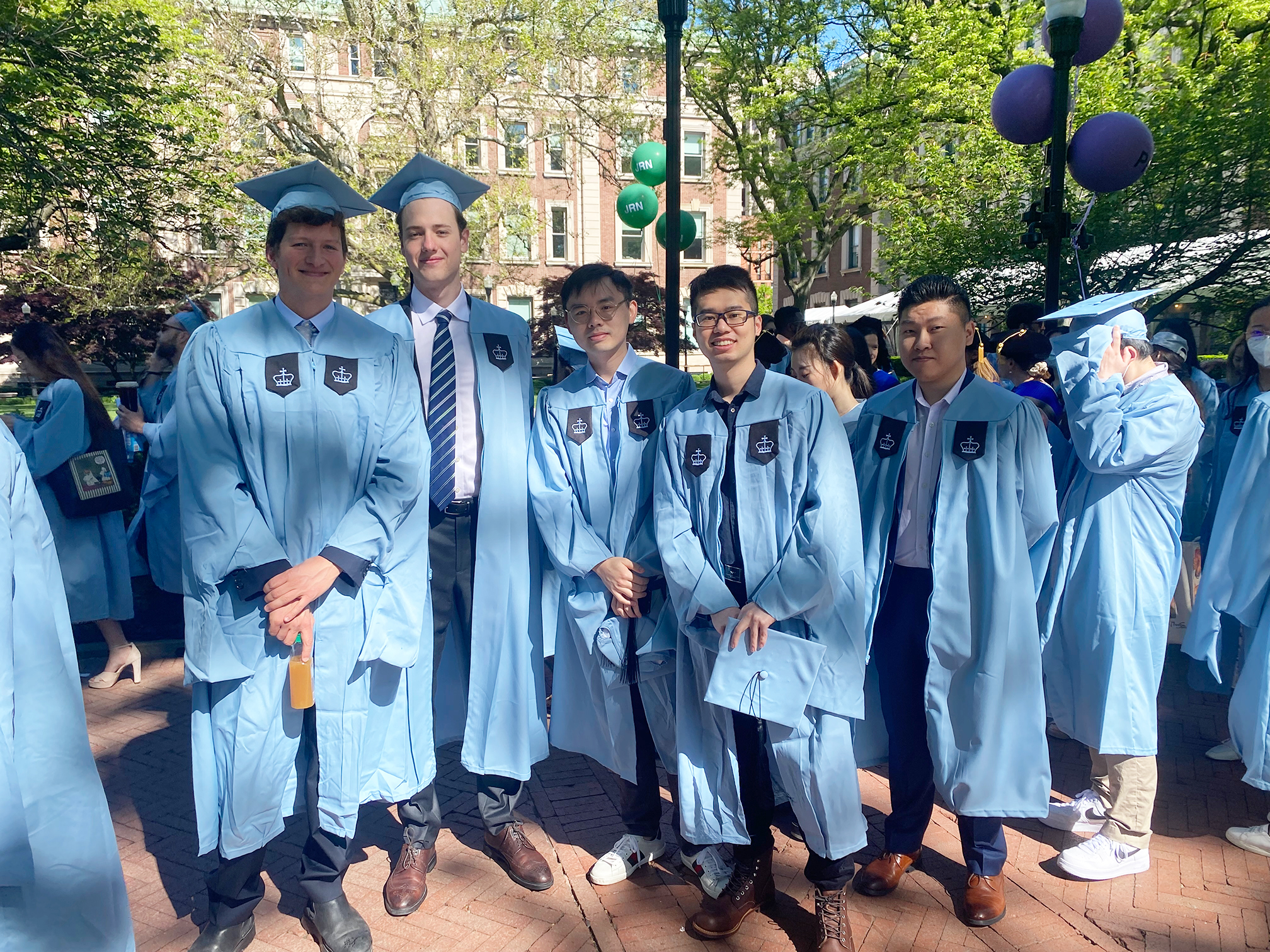 The Mathematics of Finance MA Program had its first graduating class in 1998. By now, we have over 1,400 alumni living and working around the world in 42 different countries and on every continent except Antarctica. The majority of our alumni live and work in the United States and China. Our alumni work in a wide variety of fields, but most have found ample success in the finance industry.
Among the program's recent graduates, our top employers include J.P. Morgan, Goldman Sachs, CICC, Morgan Stanley, UBS, Citic Bank, Societe Generale, HuaTai Securities Co., Ltd., CITIC, and Barclays.
Additionally, many graduates continue their studies in prominent Ph.D. programs worldwide, at schools such as Yale University, the London School of Economics, and the University of Southern California.
How Do Our Students Connect With the MAFN Alumns?
We use every opportunity to put our MAFN students in front of the alums. We do it through organizing networking events, alumni spotlight meetings via zoom, inviting alumni as speakers in classes and making direct LinkedIn and email introductions.
Where Do Our Alumni Work?
24 Exchange

360T

ABC Capital

Acadian Asset Management

Accenture

Adobe

Aetna

Afiniti

AFIRME Grupo Financiero

Aflac

AFP HABITAT

African Development Bank Group

Agam Capital

Agenzia Dogane e Monopoli (ADM)

AIG

AIMCo

Alanza Llp

AllianceBernstein

Alpha Research Capital

Alpha Value

AlphaCrest Capital Management

Alt

Alvarez and Marsal

American Credit, Inc

American Express

American Family Insurance

Amundi Asset Management

Ansell

Ant Financial

Anyon Conseil

Aperture Investors

Apifiny

Applied Academics LLC

AQR Capital Management

Arc Stone Capital Management

Ares Management

Aristeia Capital

Arrowstreet Capital

Ascending Markets Financial Guarantee Corporation (AMF)

Ashler Capital

Athena Capital Research LLC

Aviva

AVM LP

AXA

Axonic Capital LLC

Babel Finance

Bain & Company

Balanz Capital

Balbec Capital LC

Balyasny Asset Management

Banco BICE

Banco Bilbao Vizcaya Argentaria (BBVA)

Banco de México

Banco Falabella Colombia

Banco Santander

Bank of America

Bank of America Merrill Lynch

Bank of China

Bank of China International Securities Co

Bank of Italy

Bank of Thailand

Bank Otkritie Financial Corporation

Barclays

Bayview Asset Management

Bernoulli Capital Management

Better Capital

BFAM Partners (HK) Ltd.

BGC Partners

Bill.com

Blackrock

Blackstone

Blockchain Solution

Bloomberg LP

BlueCrest Capital Management

Bluefin Trading HK

BNP Paribas

BNY Mellon Pershing

BOC International

Bosera Asset Management Co.

BP Pension Fund

Brandywine Global Investment Management LLC

Brevan Howard

Brevet Capital Management, LLC

Bridgewater Associates

Bright Sky Consulting

Caisse de Dépôt et de Gestion

Capco

Capital Management

Capital One

Caro-Kann Capital LLC

Catalan Analytics

Catalytique Foundation

CBRE Global Investors

CDI Global

CDP America

CEIBS

Champaign Capital LLP

Checchi Capital Advisors

China Asset Management

China Construction Bank

China Everbright Limited

China Investment Corporation

China Life Asset Management Company

China Merchant Securities

China Pacific Insurance Group

China Ping An Insurance

China Southern Asset Management Co

China Universal Asset Management

Chubb Insurance

CIBC Capital Markets

CIC Bank

CICC

CIM Group

Citadel

Citi Bank

CITIC

CKG Partners

CMB International

CME Group

Coefficient Capital

Cohen & Steers

COMGEST

Commonwealth Superannuation Corporation

Confidential Quantitative Trading Firm

Consob

Constellation Advisory, Inc.

Constellation Capital Management LLC

CPP Investments

Credit Agricole Corporate Investment Banking

Credit Suisse

Cubist Systematic Strategies

D.E.Shaw

Dalian Commodity Exchange

Dalton Strategic Partnership LLP

Dantai Capital

Davidson Kempner Capital Management

DBS

DC Energy LLC

DCP Capital

Dean Capital Investment Management

Debtwire

DeFi Pulse

Deloitte

Delta Vega Inc

Deutsche Bank

DIA Associates

DiDi

Direct Energy

Domio

Dorsia Investment Group

DoubleLine Group LP

Dow Jones

DPM Capital

Drinker Biddle & Reath LLP

DRW

DTCC

Duality Group

Dun Yang & Co.

DXC Technology

E Fund Management Co., LTD

EFG Capital Bank

Ellington Management Group

Encore Capital Group

EquaMetrics

Equitable

Ergoteles Capital

Essence Securities Co Ltd

ETS

Everbright PGIM Fund Management Co.,Ltd

Everbright Securities

Everpine Capital Limited

ExodusPoint Capital Management

Exotic Prods

EY

Fannie Mae

FBAlliance Insurance

Federal Reserve Bank of Dallas

Federal Reserve Bank of New York

FI Consulting

FICO

Fidelity Investments

Figure Technologies

FinTech – Brex

First Hawaiin Bank

FIS

Fitch Ratings

Five Dimensions Energy, LLC

Five Rings Capital, LLC

Flow Traders

Fontainebleau Capital, LLC

Forefront Advisory LLC

Franklin Templeton Investments

Freemont Mangement S.A.

Freepoint Commodities

Friendly Score UK Limited

FrieslandCampina

Fujitsu America

GAM Systematic

Gardant

GCM Grosvenor

GE Capital Corporation

Generali Italia S.p.A.

GF Securities

GFI Group

GIC

GMIV

Goldman Sachs

Goldstone Investment Ltd

GoodRx

Graham Capital Managment

Gram Gold Coin

Groupe La Poste / La Banque Postale

GTS

Guosheng Securities

Guotai Junan Securities

Guzman Energy, LLC

Haitong Securities

Harvest Fund Management

Hefu Investment

Hellenic Bank

Hite Capital Management

Houlihan Lokey

HSBC

HSBC Global Banking and Markets

Huatai Financial Holdings

HuaTai Securities Co.,Ltd.

Hudson River Trading

Hum Capital

Huobi Global

Hwabao Trust

HypoVereinsbank – UniCredit Bank AG

Ibadan Records

Iberdrola

IBM

ICBC

IHS Markit

Industrial Asset Managment

Industrial Economic Research Consulting

Inno Asset Management

Inter-American Development Bank

Interactive Brokers

Intercontinental Exchange

International Finance Corporation

International Monetary Fund

Intesa Sanpaolo

INTL FCSTONE Financial Inc

Intuit

Invesco

ISS ESG

ITD Trading

J. Rothschild Capital Management

Jackson

James Cook & Associates Ltd.

Jane Street

Japanese Bank

Jefferies LLC

Jianxin Fintech

JIC Group

JMP Group LLC

John Lang, Inc.

Jones Road Capital Management

JP Morgan

JRI America Inc.

Jump Trading LLC

Kanerai

Katalyst Securities

KeyBanc Capital Markets

Kindred Group

King Street Capital Management

KKR & Co. Inc.

Koch Supply & Trading

KPMG

Kroll Bond Rating Agency

KYC CONSULTING

KYNEX INC

La Marque en Moins

Lazard Asset Management LLC

LCM Investment and Consulting Company

Legal & General Investment Management (LGIM)

LFIS Capital

Liberty Mutual Insurance

Lincoln International

Liongate Capital

Liquidnet

Litentry

LL Funds LLC

LMR Partners

Lorica Asset Management

LotusFlare

Lutetia Capital

MacKay Shields

Macquarie Group

Makor

Marex

Mariana UFP LLP

Mariner Investments

Masa Capital LLC

Maxim Group

McKinsey & Company, Inc.

Mediobanca

Mercer

Mercuria Energy Trading S.A.

MetLife

MF Global

Millennium

Milliman

Ministry of Finance

Ministry of Manpower

MIO Partners

Mitsubishi Corporation

Mitsui & Co., Ltd.

Mizuho Bank

MKP Capital Management, L.L.C.

ML Tech

Montagu Private Equity

Moody's Analytics

Moody's Investors Service

Morgan Stanley

Motive Metrics

MSCI

MUFG

Multistrategy Hedge Fund

Murex

MVL

NAB

Napier Park Global Capital

National Bank of Romania

Natixis

Navy Federal Credit Union

Neuberger Berman

New China Asset Management (HK)

New Holland Capital

New York Life Insurance Co.

New York Life Investment

New York Stock Exchange

Nexwell

Ninety One

Nomura

Northern Trust Asset Management

Nuveen

O'Shaughnessy Asset Management

Oak Hill Advisors, L.P.

OCC

Offit Capital

OmniMarkets, LLC

Omsk Exchange

One Eleven Capital

Opensee

Oppenheimer & Company, Incorporated

Optiver

OTCFin

PACES Capital Management

Palantir Technologies

Palisade Capital Management

Pan Capital Management

Park Avenue Finance

Paypal

PDB Consulting

Pegujo Capital

People's United Advisors

Perfaware

PH Reality Capital LLC

Pictet Asset Management

PIMCO

Platinum Grove Asset Manangement

Pomelo Capital LLC

PortfolioEffect

Pretto

Primavera Capital Group

Prudential

PwC

Pythagoras Investment Management LLC

Qontigo

QS Investors, LLC

Quadrille Capital

Quantitative Brokers

Quantitative Risk Management

Quantix Commodities

Rabobank

Raiffeisen International Bank

Rapyuta Robotics Co., Ltd

RBC Capital Markets

Recalibrate Capital

ReflexGroup

Renaissance Macro Research

Revolut

Robinhood

Rockefeller Capital

Roland Berger Strategy Consultants

Ronin Capital

Royal Bank of Canada

RSTONE Capital

Ruffer LLP

S&P Global Ratings

Saba Capital Management

Samba Financial

Santander Bank, N.A.

Sauma Capital

Saxo Bank

Sberbank

Schonfeld

Scientech Research LLC

Scotiabank

Sculptor Capital Management

Secfi

Security Benefit

Segantii Capital Management

Sequoia Capital

SESCO Enterprises

Shanghai M&A Club, China M&A Association

Shenzhen International Holdings Limited

SHIELD Capital Management Ltd

Sierra Global Managemet

Sifflet

Sino-Ocean Investment Manager

SinoAlgo

Slalom

SMBC Capital Markets

Societe Generale

SoftBank Investment Advisers

Square

Squarepoint Capital

Standard Chartered Bank

Standard Chartered Capital Saudi Arabia

State Administration of Foreign Exchange

State of Tennessee Investments

State Street

State Street Global Advisors

Stevens Capital Management LP

Stilt Inc.

Stripe

Structured Asset Management

Sumitomo Mitsui Banking Corporation

Supply Velocity

Susquehanna International Group

Swiss Life

Swiss-Sino Innovation Center

Synopsys Inc

System 2

T3 Trading

Takeda

Tau Strategy

TD

Tebon Securities

The Norinchukin Bank

The Roxborough Group, LLC

The StartUp Station

The Transportation Group

The Vitality Group

The World Bank Group

TIAA-CREF

Tianfeng Securities Co., Ltd.

Tower Research Capital

Tradeweb

Trading Valley

TransMarket Group

Trexquant Investment LP

Triata Capital Limited

Tridentium Capital, LLC.

Truist Securities

Two Sigma

U.S. Bank

UBS

United Nations Joint Staff Pension Fund

unybrands

US Bancorp

Validus Risk Management

Vanguard

Variant Investment

VEDICOM

Verition Fund Management

Vibrant Capital Partners

VIDRIO Financial LLC

Virtu Financial

Voya Investment Management

Voyance

Wah Tung Facade Company Limited

Wavestone

Webull Financial

Weld Capital Management LLC

Wellington Management

Wells Fargo

Western Securities Co, Ltd.

Wilshire Associates

WISE

Woodmere Asset Management

Workday

WorldQuant

YKems

Zais Group

Zurich Insurance Company Ltd