The New York Times had an op-ed piece this weekend by Adam Frank and Marcelo Gleiser, entitled A Crisis at the Edge of Physics. They make some of the usual criticisms of string theory and the multiverse, ending with
Are superstrings and the multiverse, painstakingly theorized by hundreds of brilliant scientists, anything more than modern-day epicycles?
I mostly agree, although I don't think they make clear what the real problem is, that these theories predict nothing and explain nothing. In contrast, epicycles were a quite useful, well tested model that was highly predictive and approximately correct. If we had modern day epicycles, that would be a huge advance…
Last Friday in his concluding talk at a Nordita conference on particle physics and cosmology, Michael Turner gave his take on the multiverse:
Most important discovery since Copernicus?
Is it science? (not testable)
Many true believers (left coast) and not enough doubters.
He makes clear his opinion on these questions with this graphic: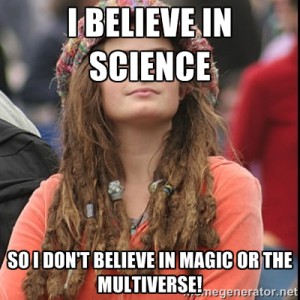 and I think this expresses well the majority opinion of the physics community. A major question here is whether the problem of pseudo-scientific multiverse mania is one of the "edge" of physics (the "left edge", as Turner notices and was discussed here), or whether it has infected the center. Some days I'm quite discouraged to see how widespread this is, other days it seems to me that we may finally be getting over this. There's only so long you can get media attention for your empty but easy to understand new "Copernican revolution" before people lose interest and move on to something else. Perhaps we're getting to that point. I think this was the first year that the World Science Festival here in New York didn't have a program promoting the multiverse, and maybe that's a sign of change.
For quite a few years now, there have been few scientific talks trying to use a multiverse to do calculations at serious string theory conferences (see for instance this week's String Pheno 2015, or Strings 2015 later this month), with the multiverse mainly appearing in promotional talks to the public. Maybe the public is finally getting bored and starting to adopt the point of view that Turner's graphic suggests (and that I think the physics community should get behind).
Update: Physics Today has an opinion piece entitled Could the evolution of theoretical physics harm public trust in science? This addresses an issue I don't think some theorists realize the seriousness of. If you start arguing that conventional notions of testability don't matter, this can be a very dangerous thing to do in an environment where public trust in science is an issue. Put differently, if physicists publicly promote the pursuit of speculative ideas in an ideological framework that can never be falsified, they create a real danger of a public perception that science is just one more ideology.