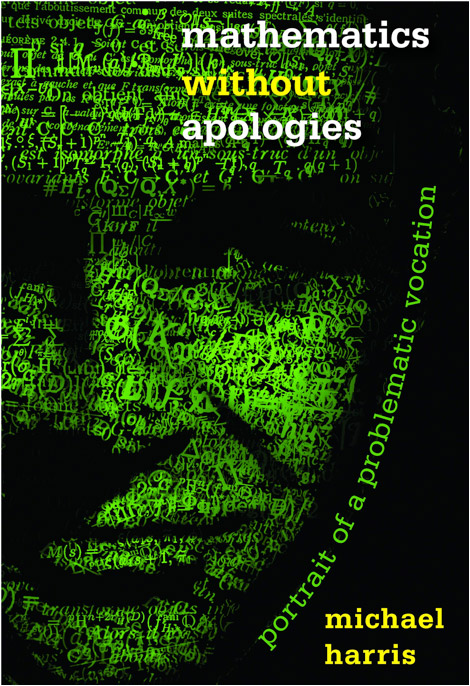 Mathematics without Apologies: Portrait of a Problematic Vocation
M. Harris
What do pure mathematicians do, and why do they do it? Looking beyond the conventional answers—for the sake of truth, beauty, and practical applications—this book offers an eclectic panorama of the lives and values and hopes and fears of mathematicians in the twenty-first century, assembling material from a startlingly diverse assortment of scholarly, journalistic, and pop culture sources.
Le livre est disponible à Princeton University Press
À la différence de l'auteur, le livre a sa propre page Facebook ainsi qu'un blog.
Une traduction française sera bientôt disponible (à suivre…).
---
À lire également
Dispatch From the Oscars of Science, slate.com, November 19, 2014
Mathematicians of the Future?, slate.com, March 23, 2015
Le 10 avril 2014 j'ai présenté une partie du Chapter 8: The Science of Tricks à Londres à la conférence Mathematical Cultures 3.
Le 21 mai 2015, avec Cédric Villani nous avons présenté nos livres respectifs à Shakespeare and Co. à Paris.
Voici des versions préliminaires de quelques chapitres :
Bonus Chapter 5: An automorphic reading of Thomas Pynchon's Against the Day (interrupted by elliptical reflections on Mason & Dixon): Download
Chapter 6: Further investigations of the mind-body problem: Download
Chapter 9: A mathematical dream and its interpretation: Download