We begin working on your career development even before you begin your classes. Many organizations set the deadlines for their summer internships in early fall, other companies recruit for summer internships until late spring of the same year. To help you with early applications, we organize digital career workshops and collaborate with other departments to make sure that each of you has an edited resume as soon as possible. Below please see a snapshot of career services available to our Mathematics of Finance students.
---
Columbia University Career Resources 
All MAFN students and graduates can use the resources provided by the GSAS Compass, which offers a variety of career development services tailored to master's and doctoral students, including career development workshops, employer events, networking opportunities,  one-on-one advising, and a job listing platform called GSAS Connect.
---
Specialized MAFN Career Resources
In addition to the GSAS Career Services resources, students in the MAFN program have access to a dedicated Career Development specialist who works with current MAFN students, employers, and alums of the program.
Specialized MAFN career services and activities include:
Individual career consults: students have an opportunity to meet with the counselor during a 45-minute one-on-one resume/cover letter session and book multiple follow-up meetings about other aspects of job search.
Information sessions/networking meetings with employers: the MAFN program brings recruiters for Meet Employers sessions and virtual career fairs.
Career Skills Workshops: examples of those sessions include advanced LinkedIn workshops, Technical Mock Interviews, Career Fair Prep, Salary Negotiations Skills, and more.
Career Development Announcement Board- a digital board where we share exclusive job opportunities, inside scoops, tips, and events for our MAFN students.
Meet Alumni sessions are meetings with individuals who graduated from the MAFN program. Many alumni are happy to come back and speak about their job hunt and also give tips on how to land a job at the organizations that they work for. Those are great networking opportunities
Alumni Networking Dinner – this is our recurrent event for which we invite MAFN alumni and current students in the program.
Mentorship program with the Society of Quantitative Analysts.
MAFN Alumni Network- by becoming an alum of the MAFN program you enter an exclusive group of alumni who now work for many prestigious organizations around the world. A majority of them have already joined our closed MAFN LinkedIn group.
---
The Mathematics of Finance MA degree is STEM eligible. This means that during your initial period of post-completion OPT, you may be able to apply for an additional 24 months of OPT authorization. Please visit our OPT page to learn more about OPT and STEM extension.
---
Questions? Please email Izabela Rutkowski, Associate Director; i.rutkowski@columbia.edu
Please follow our LinkedIn page.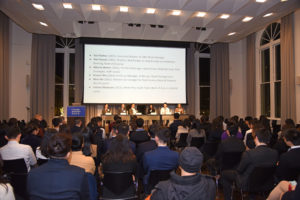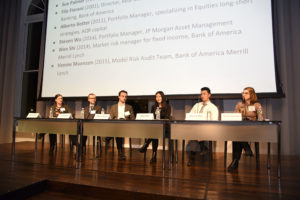 Our 2020 MAFN Alumni Networking Dinner was attended by more than 130 alums, students, and professors of the program.

Print this page